NOTE: I did not install this software, so I am not sure if this first paragraph is accurate any longer.
To install Office Connector for future customers, run the installer as standard using the Timberline Office share as your Event 1 System Folder. By default Sage 300 will create a Timberline Office share, during the Office Connector install select SHARED and for the install source select \\SERVERNAME\Timberline Office\Event1

Once the installation is done, copy C:\Program Files (x86)\Event 1\Office Connector\OfficeConnector.xla to the user's Documents path in their profile folder at C:\home\<COMPANY_ID>\<USER> or C:\Shares\Profiles$\<USER>\Documents.
C:\Program Files (x86)\Event 1\Office Connector\OfficeConnector.xla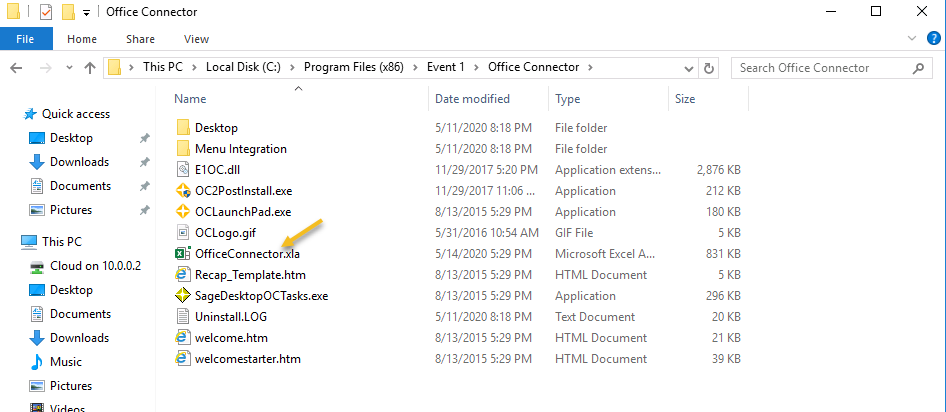 C:\home\RJ7T\craig.rj7t


C:\data\SERVERNAME\Event1

Add the Office Connector to Excel - Reference: https://www.event1software.com/e1/featured/how-do-i-unload-and-load-the-office-connector-add-in/#location
Launch Excel and go to File > Options > Add-ins >Select Excel Add-ins in the Manage box > GO > Confirm that Office Connector appears in the Add-Ins.
If it does not appear in the list > Browse > Navigate to C:\data\SERVERNAME\Event1 and select the OfficeConnector.xla > in the Add-Ins list, confirm the box is checked for Office Connector > OK > close and reopen Excel > You'll see the Office Connector tab in the Add-ins ribbon in Excel. **this step is unverified by me** Select the drop down -> Help -> License and let the user enter in their license codes.
This is what the Office Connector looks like in the Add-ins.

***After updating some users may get the following error when launching from Sage. To correct rename the "Event1.OfficeConnector.Desktop.exe" found in c:\Program Files (x86)\Event1\Office Connector\Desktop to Event1.OC.Desktop.exe or the path in the message to match the path that Sage was looking for. ***
C:\Program Files (x86)\Event 1\Office Connector\Desktop