Applies to: Sage 50, Sage 100, Sage 300, Sage Estimating, Sage Paperless.
Prerequisites: None.
Summary
There is a known issue in Sage CRE products for users who switch between computers that will cause the screen to be hidden or appear to freeze.
If user is opening via 'Favorites' in Sage, first try removing from Favorites, saving, then re-adding the shortcut mapping to Favorites.
To resolve this, launch the full desktop and the launch Sage. From here, there are two ways to reset the window.
Once Sage opens, open the same windows again (in our case, Ledger Accounts drop down) and then open Task Manager. In Processes, expand Sage, and right click on the process for the stuck display item and select maximize. This will snap it back to full screen and allow the you to close it. It will then be "reset" and not stuck on an inaccessible monitor.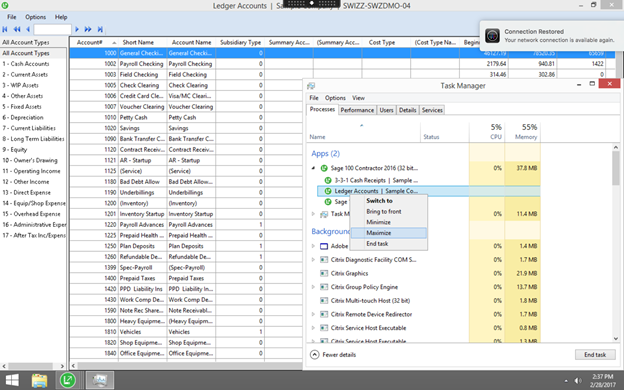 Rather than going to the Task Manager, you can just reopen the windows in Sage from the full desktop and hover over the Sage icon, right click on the hidden window and select maximize. This will snap it back full screen on the primary display.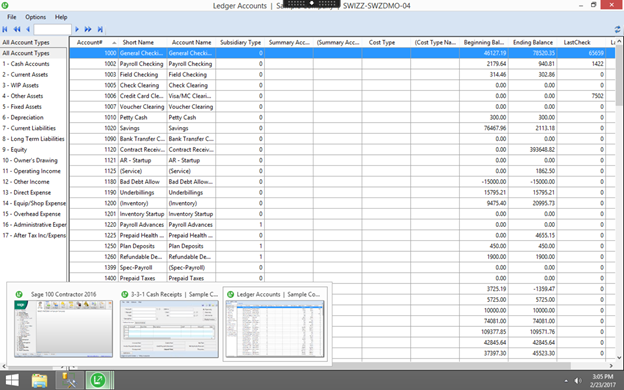 How to Prevent This in the Future
If you move between dual or multi-monitor and singular display setups, be sure to move the Sage windows back to the primary monitor before closing the Sage application. This will force the windows to always load on the primary monitor.