In order to configure a Remote Apps for Mac OS X 
To access your remote apps via MacOS you'll need to download and use the Microsoft Remote Desktop app. Make sure to download the most recent version.
(in this KB clienta will represent your company domain)
Start by downloading the RDP app from the app store

 Once downloaded, open the app and go to Feeds 
Click to add a Feed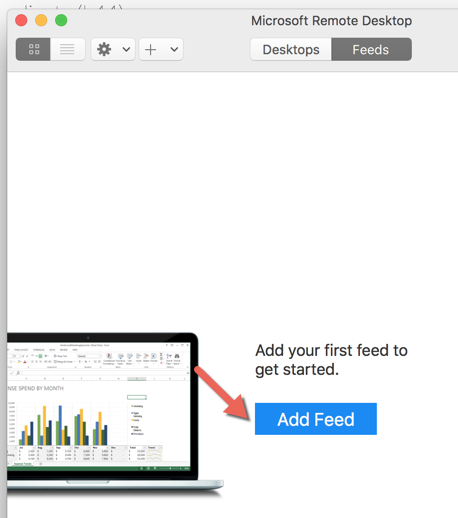 Paste the Feed address in (in Welcome e-mail, or via CWS Dashboard) This is specific to your company and the admin for your company will have it, or you can reach out to sales@swizznet.com to request it.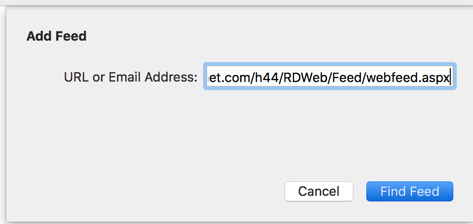 When prompted, select 'Add New User Account' from the drop down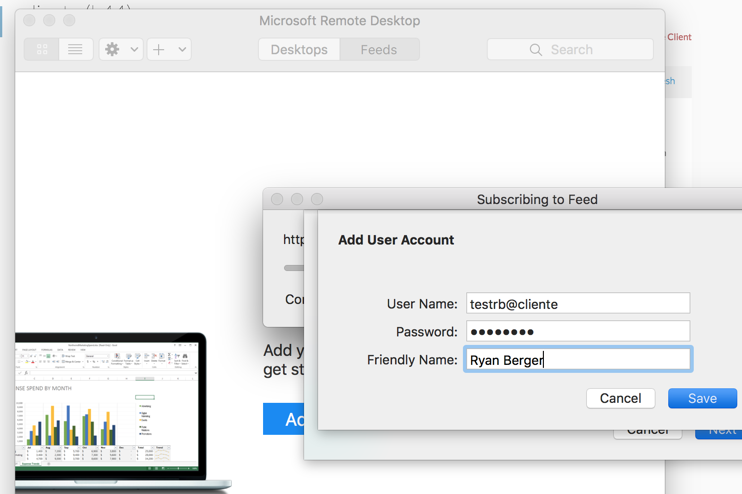 Enter your username, and password. The Friendly Name field can be whatever you'd like. Save the configuration.
It will now give you access to the applications that are provisioned out to your user. You just need to double click on them and they will load from your server.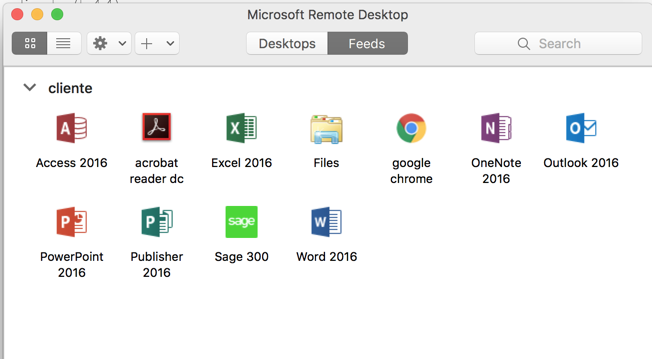 If you want to redirect a local folder into your RemoteApp/Remote Desktop sessions, just click on the cogwheel within Remote Desktop app and select Preferences. At the bottom, select Choose folder... and then select the folder you would like to be brought into your remote connection.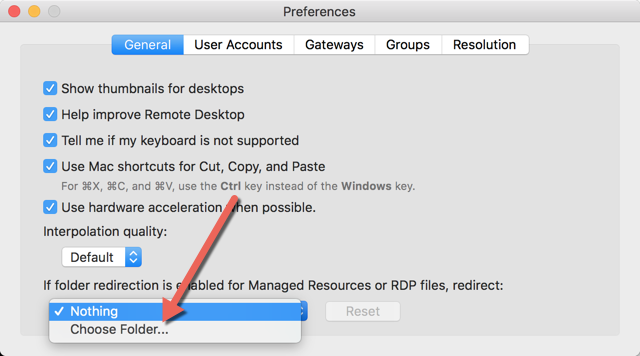 Upon your next login, you can now access files from this resource while in RemoteApp.
The drive you select will be entirely up to you, we used a Guest folder as an example, but whatever location you select will be seen from within your Remote Desktop as well. Make sure to select "Do Not Ask Again"
Once you click connect the app will launch.
In order to configure a full desktop for Mac OS X 
On the Mac OS X Remote Desktop client, click on + and then Desktop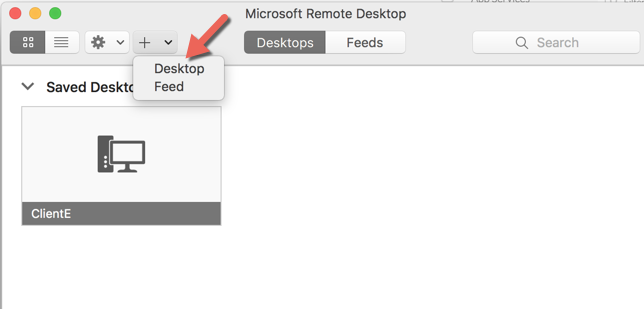 Use the PC name field to type in your companycode.swizznet.com. In example below, the company code is h44.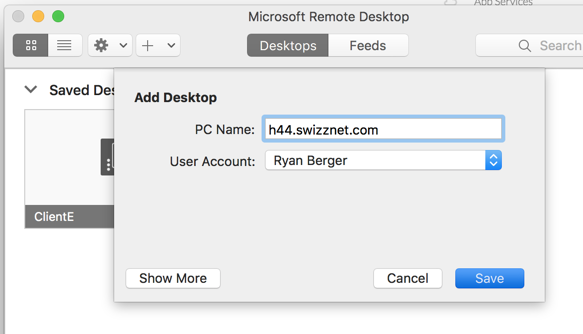 Under user account, select create new and put in your login information and password (testrb@cliente and then my password)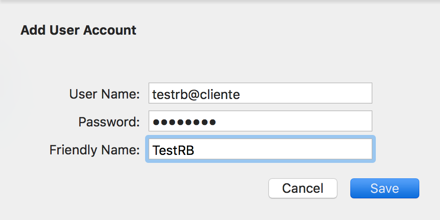 Click on the pencil next to the new Remote Desktop connection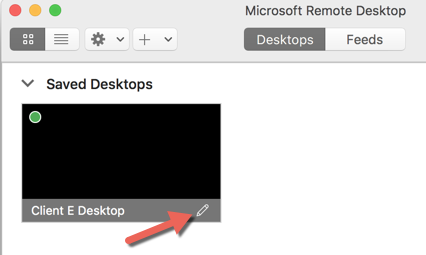 On the General tab, we're going to need to add a Gateway. You can use the user account you created above for the Gateway as well. 
*When your password changes for this account, you will need to update it in these configurations.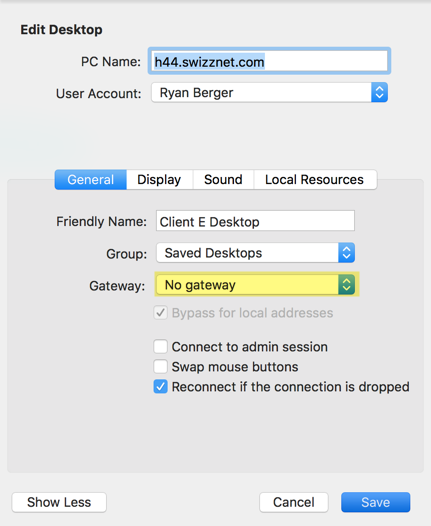 The Gateway settings should look like this. Please see the list of gateways below, as they change depending on the datacenter.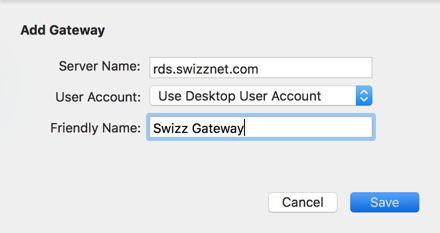 Azure (fab) is az2-rds.swizznet.com.
Google (cef) is go1-rds.swizznet.com.
Swizznet (swz) is rds.swizznet.com.
In the Display tab, these are the settings we recommend. You can select 'Use all monitors' if you want your Remote Desktop to span across multiple displays.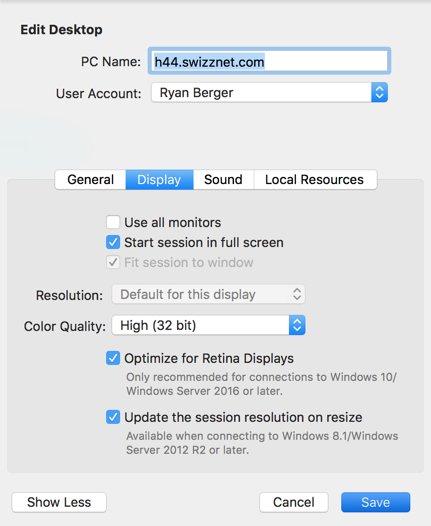 In the Local Resources tab, these are the setting we recommend. You can add a Folder using the + sign, to redirect a local folder into your Remote Desktop connection. Make sure to select Printers, and Clipboard - so you have the ability to Print and Copy/Paste into CWS.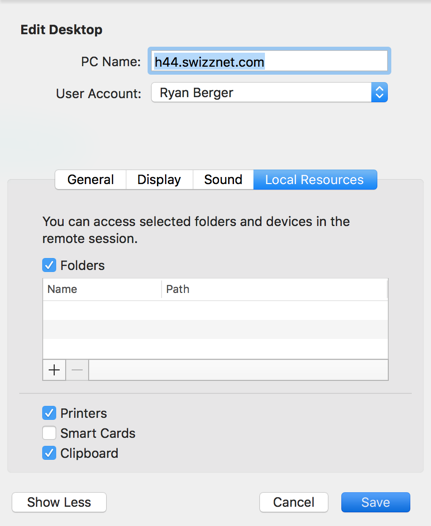 Select Save
You'll then be able to launch your Remote Desktop Connection by double clicking the icon. 

For even quicker access, click on the cog wheel and select 'Pin to menu bar'. You'll then be able to launch your Remote Desktop Connection from the Mac status bar.