VPN Type: Global Protect
VPN Download URL: secure.swizznet.com
VPN Portal Address: secure.swizznet.com
FS-AlJones IP: 192.168.3.116
FS-AlJones UNC Share Path: \\192.168.3.116\CustomerData$\AlJones\DMS Data
Username: username@swizznet.local
**MFA is mandatory for each user
Install VPN Client
Click here to download the GlobalProtect agent: Download
Enter the Swizznet username and password to login
Download the appropriate version > I am downloading the 64 bit GlobalProtect agent
Once downloaded open the local File Explorer/Downloads > Right click the file and check the unblock box if blocked > OK > double click the installer to install. Use the default selections to install.
Go to your hidden icons in the bottom right corner of your monitor and you should see the GlobalProtect icon > right click the icon and you will see Welcome to GlobalProtect > Enter the portal address "secure.swizznet.com" > Connect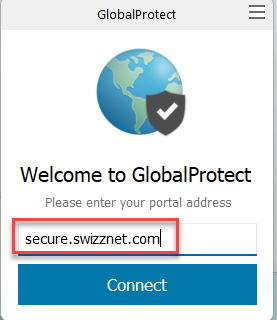 Enter the Swizznet username and password > Sign In > you will get a phone call or push notification to authenticate the MFA > you are now connected to the VPN
Map a lettered drive
Open File Explorer on the PC > Right Click This PC > Select Map network drive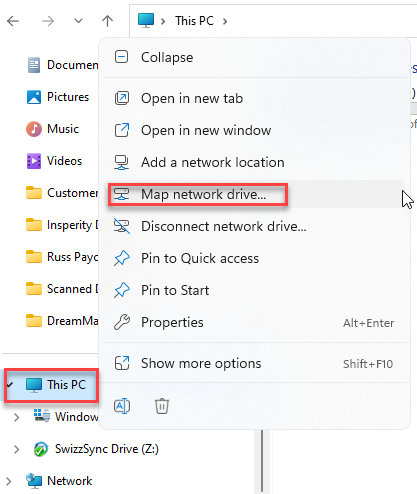 .
Select the drive letter you want to use > Add the Share path from above or any other path you need to map > Finish
Enter the username and password. append @swizznet.local to the username
Username: testrr_AlJ@swizznet.local
Password: Swizznet password
Close File Explorer and reopen it > you should now see the X drive in File Explorer
Rename the drive to something useful. In this case I am naming it DMS Data > Right click the new mapped drive > Select Rename > Name it DMS Data
Now have a new X drive called DMS Data
Disconnect mapped drive
Right click the mapped drive > Select Disconnect > Close File Explorer and reopen it
The mapped drive is now gone.