To ensure your business has minimum downtime, it's important to ensure your company files are in good working order. To that end, regular maintenance on your files is a necessity.

It's considered good practice to perform this maintenance once every few months, or even once every month for files that see heavy use.

If after following this guide you are still experiencing issues, please contact our support team.
Contents:
You will need to be in single-user mode when performing these maintenance tasks

Clearing the Transaction Log
Large TLG files can cause QuickBooks to slow down when working in your company files. A good rule of thumb for TLG file sizes is to ensure that they're 1/4th the size of your company file (also known as a QBW file), or less.

If you have a large TLG file or are experiencing performance issues, you can clear out that TLG file by performing a manual backup in QuickBooks with full verification. Generally speaking it's recommended to do this once every three months, or as otherwise dictated by the file size (again, a good rule of thumb is 1/4 the size of your QBW file).
The backup file itself isn't important as Swizznet already provides a separate backup solution. However, manual backups are the only way to clear out these TLG files.
Follow these steps to clear your transaction log:
1. Choose File > Back Up Company > Create Local Backup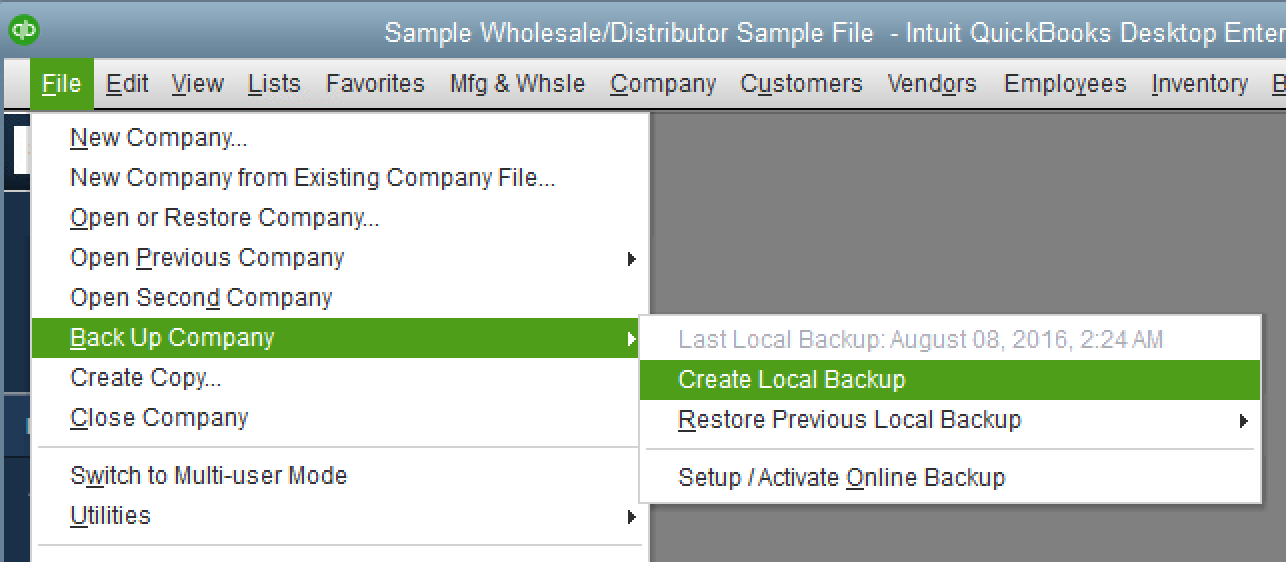 2. Select "Local Backup", then click "Options"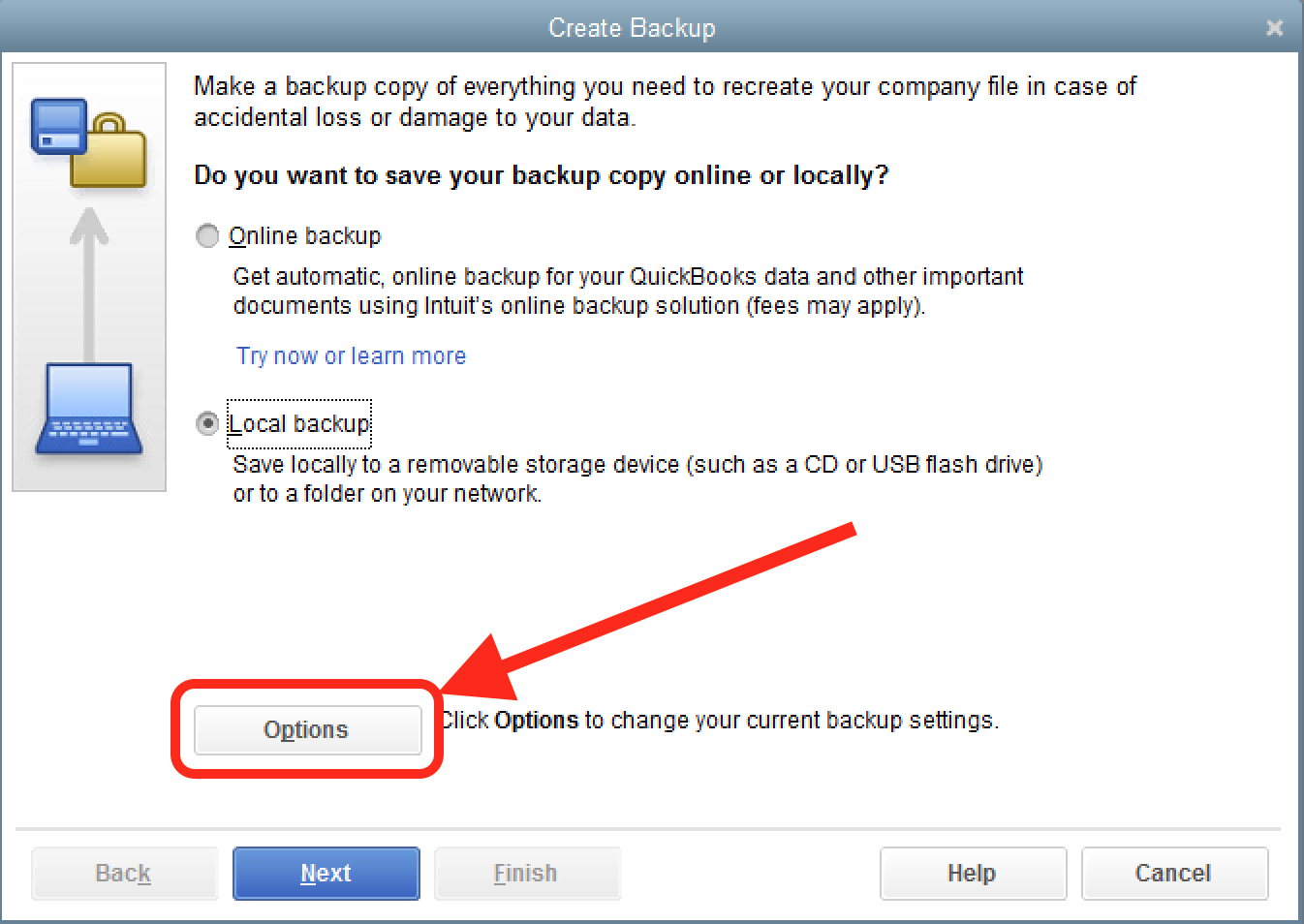 3. Save your backup to your Z: drive, preferably under a folder dedicated to Quickbooks Backups. We'll call it "Backups" in this example (if it doesn't exist, you will need to create it). Click OK when you're done.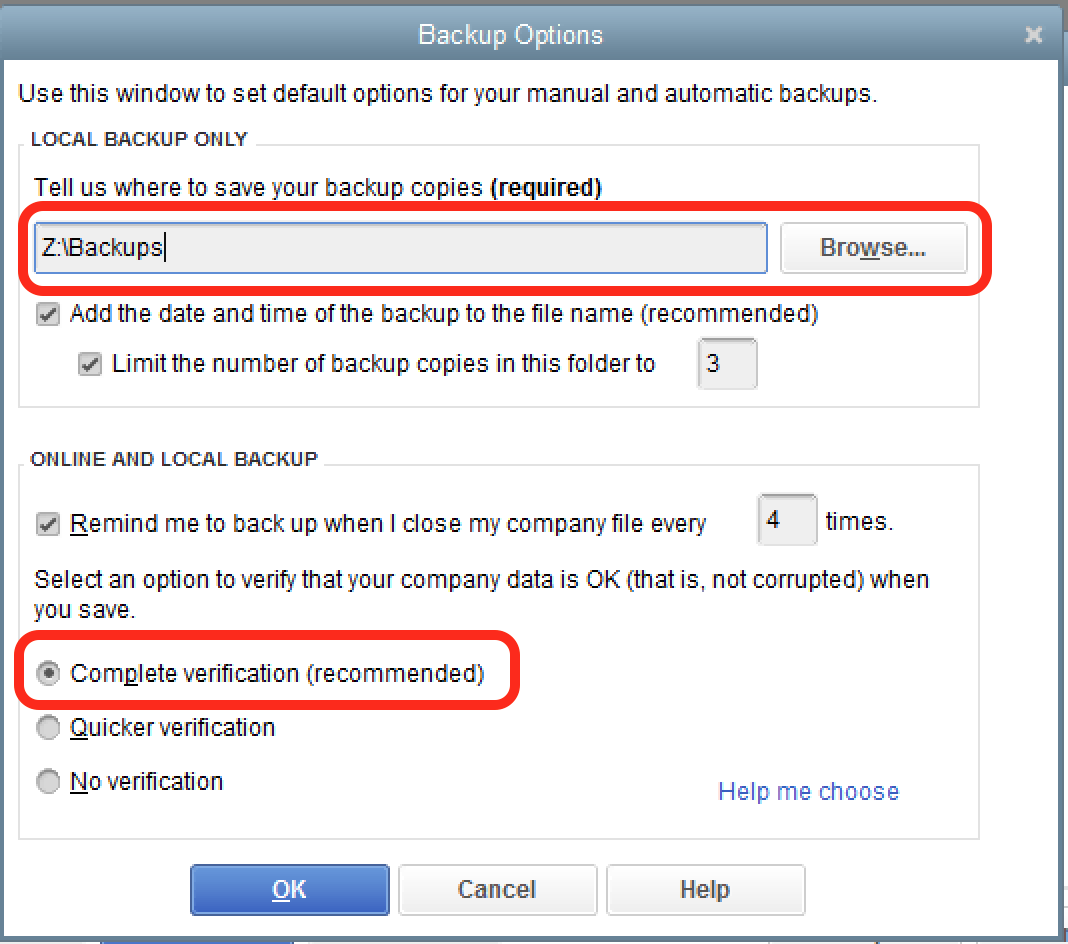 NOTE:
It's absolutely crucial that "Complete Verification" is selected here. If it isn't, the TLG file won't be cleared!

The rest of the options can be left at their defaults as in the image. It's a good idea to limit the number of backups. Reminders can be set to your preference.
4. Click "Next", then make sure you have "Save it now" selected, and hit "Next" again.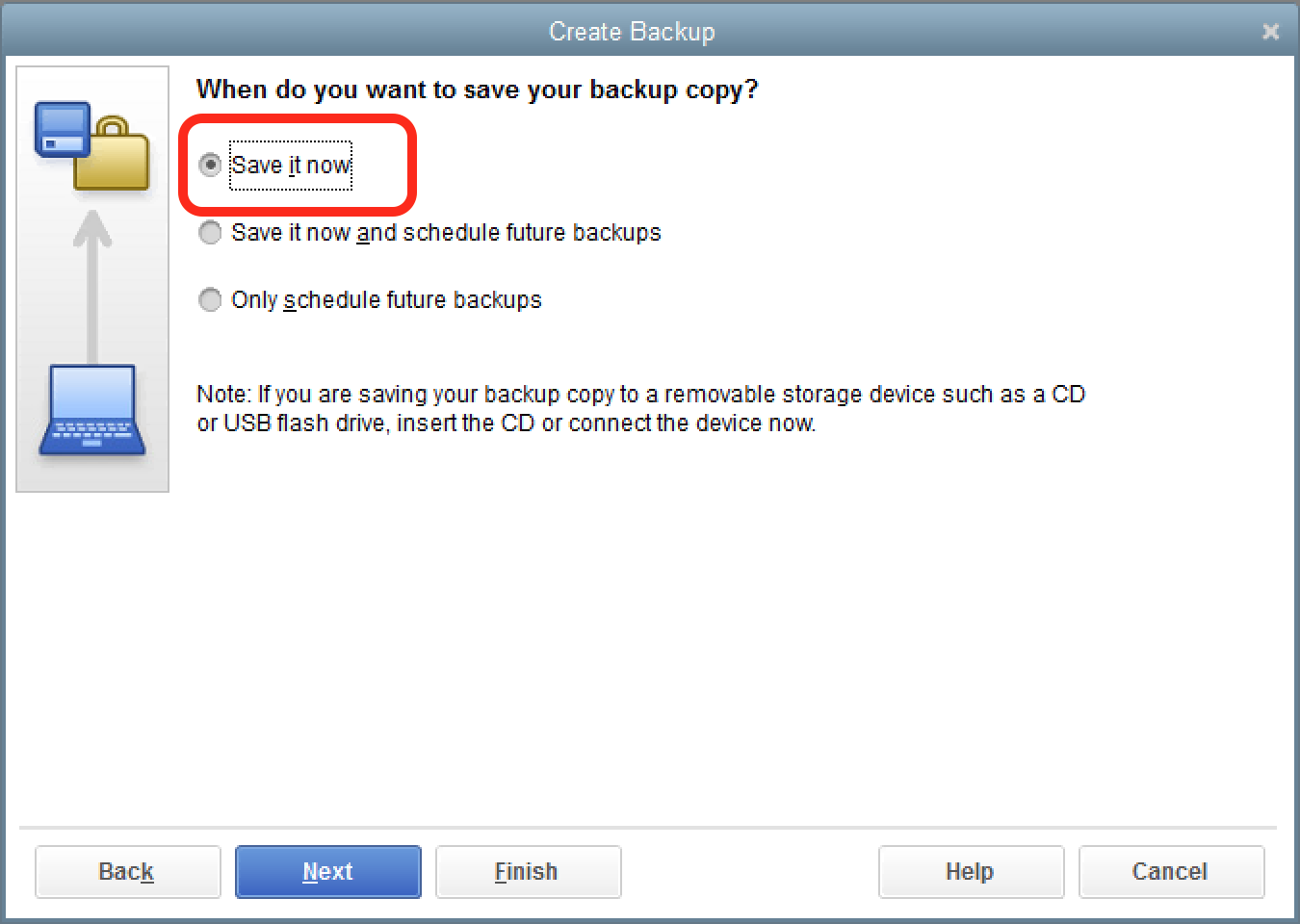 NOTE:
It is never necessary to schedule future backups. Swizznet provides a robust backup solution as part of our platform

.
5. Here you will see a progress window for the verification, and then the backup process after that. Once everything is finished, hit OK.
Verifying your Company File
Common reasons to verify, according to Intuit:
Fatal errors when you use QuickBooks Desktop.
Discrepancies on reports, such as invoices or bills that post with a negative values.
Deposited payments show up in the Payments to Deposit window.
Balance sheet reports do not show all accounts.
Names are missing from lists.
Transactions are missing.
Verify is a well-data checkup to make sure your company file is error free. Verifying is always safe to do as it never modifies your company file.
Verifying
1. Choose File > Utilities > Verify Data.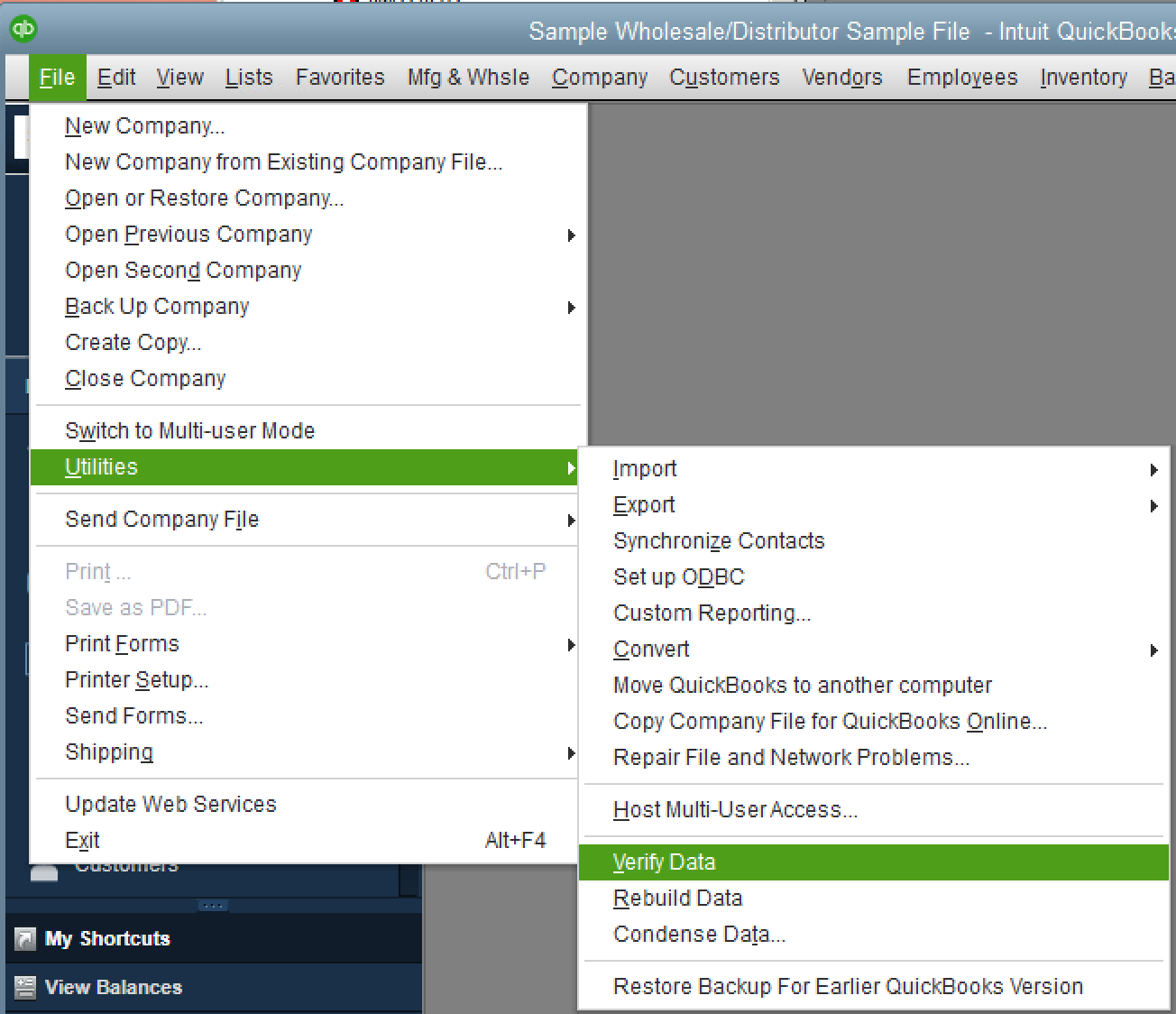 2. You should see a progress bar such as this: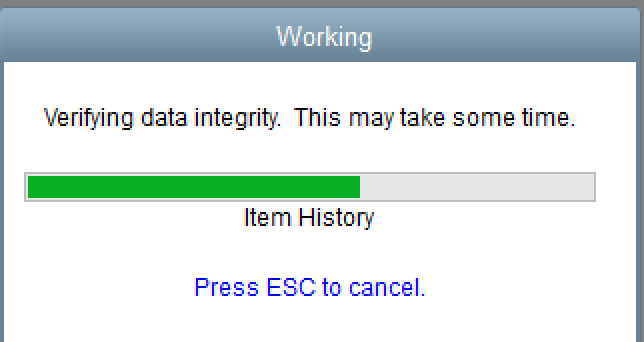 3. Once finished, if you see:
"

QuickBooks detected no problems with your data

," no further action is needed.
"

Your data has lost integrity

," indicates there is data damage in the file. Continue to the steps below to Repair and Rebuild Data to correct the problem.
Repair File (do this before Rebuild) *you will need QB Admin Credentials to complete this step*
1.) file>close Company Log off
2.) File>utilities> Repair File and network issues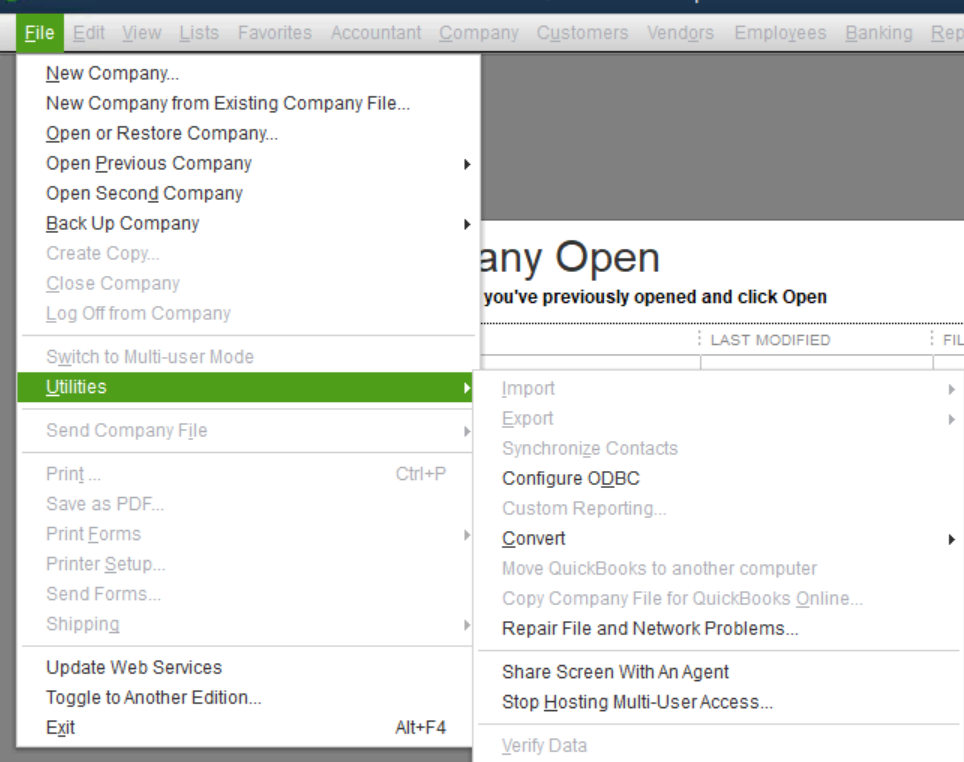 3.) select Check your file AND network (first option)
4.) browse to Z drive or the appropriate Swizznet drive (typically Z or H)- then locate company file with issues

5.) when repair is finished, repeat steps for full verification of QB file in single user mode.
6.) IF errors are found on the second full verification, THEN continue to a rebuild.
*File repair should be the only step that requires admin*
Rebuilding
Must be in Single-User mode. All users must be logged out of the company file, then select File > Switch to Single-User mode.
1. Choose File > Utilities > Rebuild Data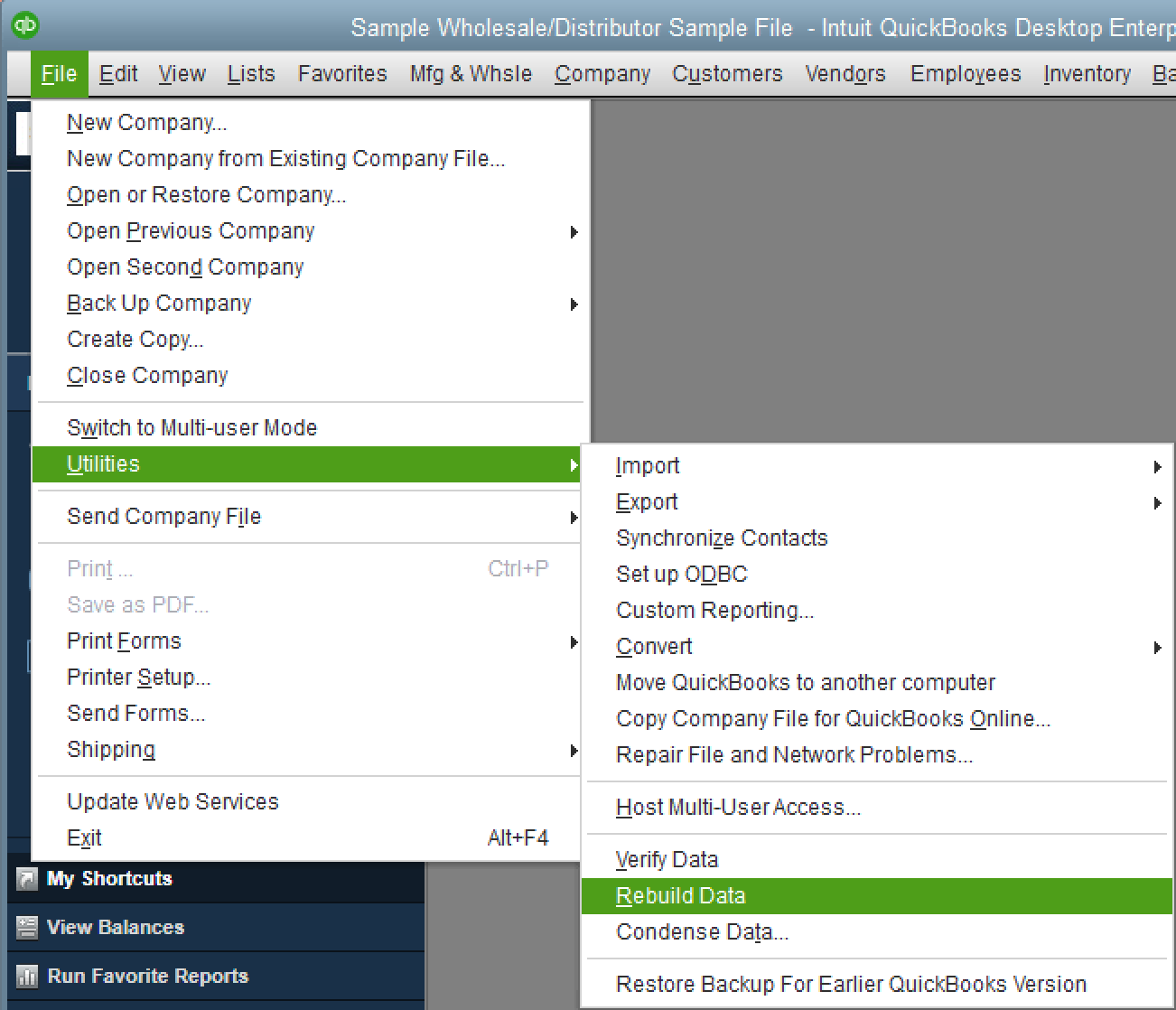 2. You will receive a warning message to backup your company file, press OK. A rebuild requires a company file backup beforehand because in rare cases the process may need to delete transactions or list entries to fix the file. A backup of your company file will ensure you have a secured copy of your company file before any changes are made to it.
3. Save the backup to "Backups" on your Z: drive. If "Backups" doesn't exist, create it. Then select OK at the bottom of the QuickBooks Desktop Backup window.
4. The Rebuild Data utility starts as soon as the backup is finished.
5. Click OK when you get the message "Rebuild has completed".
If you click "View Issues" you will see a window like the following: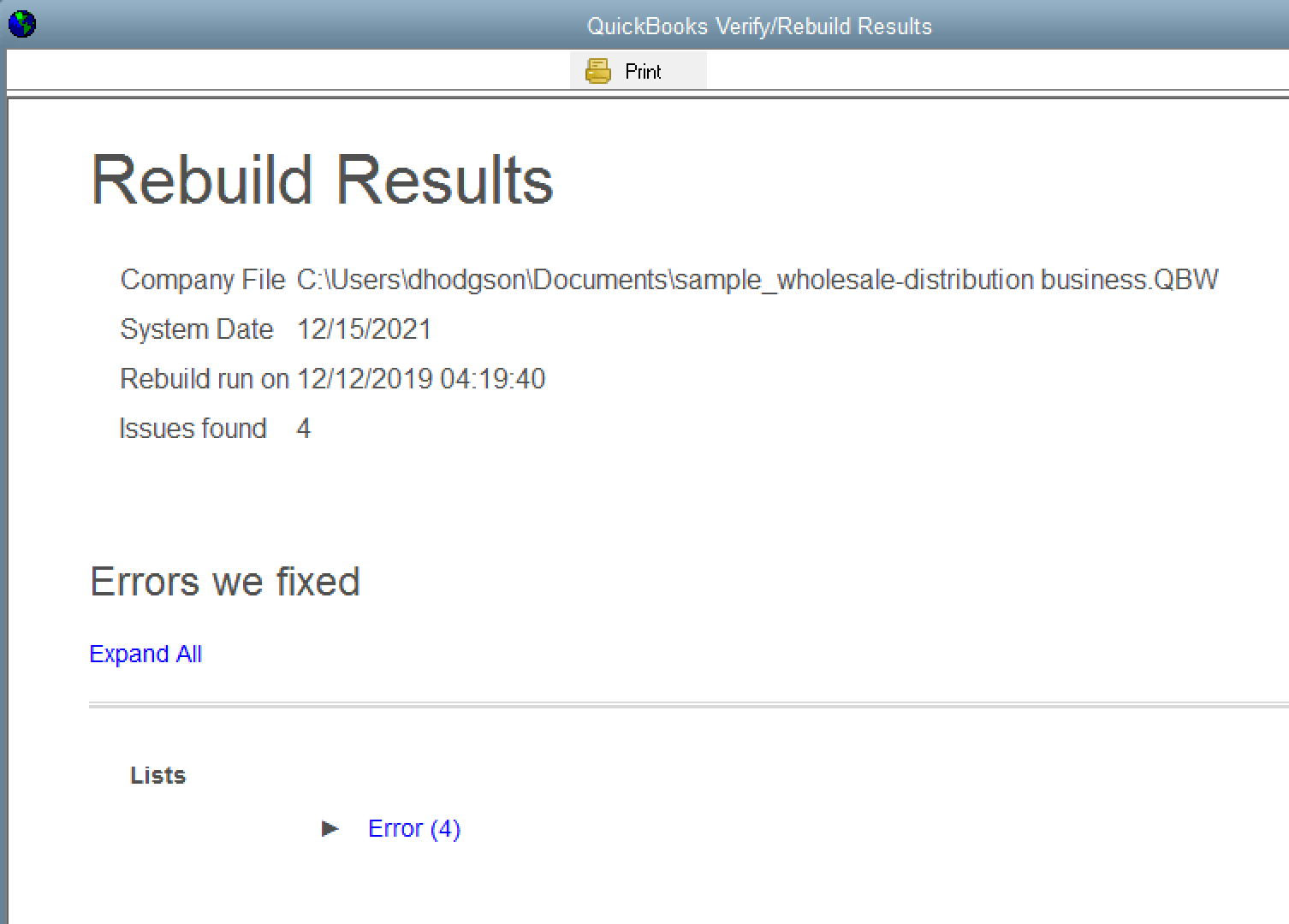 6. Once the Rebuild is done, run another Verify to see if there are any further issues.
If there are still errors, run another rebuild, and then verify again. If the same errors persist, they need to be fixed manually. More info can be found by clicking on the error in the Verification summary. A support technician may be able to assist with fixing some of these errors.

There are many common errors that a Rebuild cannot fix, and that do not otherwise harm the regular functioning of your company file.